Our finca is located on the edge of a small village at the foot of Vulcano Tenorio in the northern part of Costa Rica. It is an idyllic place, enveloped by the rain forrest where horses are still ridden as a main way of transportation. We are mainly self sufficient. We produce cheese, yogurt and other milk products; we grow organic fruits such as oranges, mandarins, pineapples, papayas and bananas…. plenty of organic vegetables and coffee.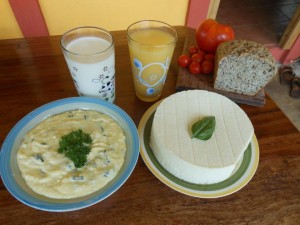 We also rent a small, simple but very authentic little wooden cabin, CASITA AZUL.
If you feel like spending a few days in a quiet natural place off the beaten track and away from major tourism you are welcome to visit us.
We look forward to sharing a bit of paradise with you!
Andi & Angi